Introducing,
Galena Tours App
---
This comprehensive app offers the opportunity to experience the rich history of the town of Galena, IL. It allows you to visit Galena virtually from the comfort of your own home as well as take and customize your own self-guided driving/walking tours while you're in town.
Notable sites include Grant's Home, Turner Hall, Market House, Old Stockade, Coatsworth Building, Desoto House Hotel, Washburne House, Blacksmith Shop and many more historic houses, churches, and downtown Galena buildings.
DOWNLOAD
Features
---
291 Locations

The Galena Tours App features 291 historical locations around Galena, Illinois. Choose from several different pre-loaded tours, full-length or mini, or create your own!

Voice Narration

Each location on your personalized guided tour features a voice narrated account of that historical location.

GPS Coordinated

Each location features GPS/Google Maps integration with walking/driving directions.

Historical Photos

Included in the app are hundreds of historical photographs from around Galena. View past and present photos of many historical locations available on the app.
---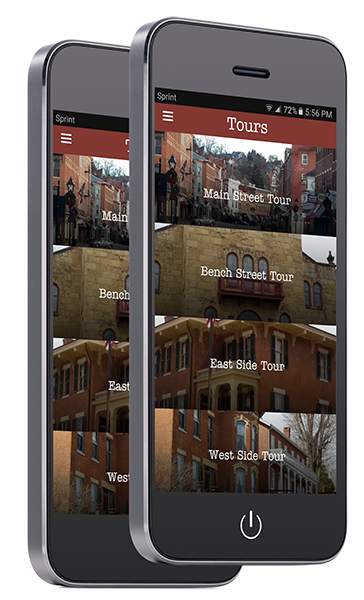 Create Your Own Personalized Tour
Within each pre-loaded tour, just click the star in the top right corner to add the location to your "Favorites" list.
Then, once you're in Galena, play your favorite locations for a unique, personalized tour!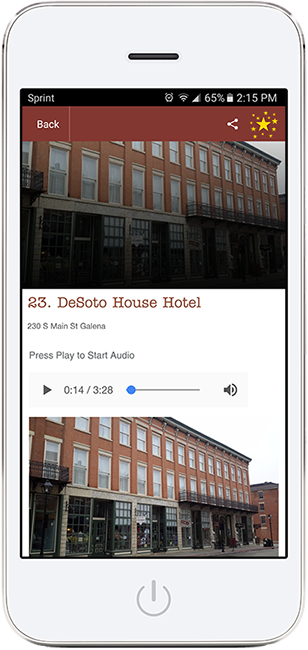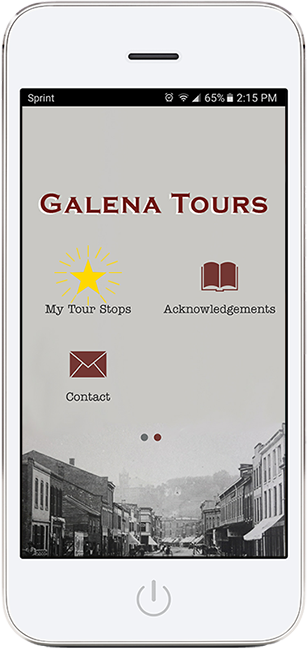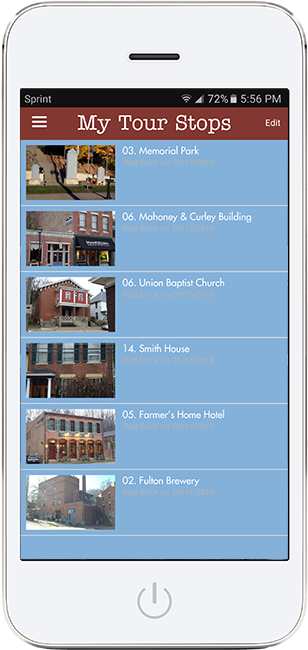 Sample Tour – Fire Station #1
This sample tour is merely a glimpse into the unique photographs and rich narrated history available on the app. 
Great App even if you think you know all about Galena

"We go to Galena regularly. Even so this app has taught us things about dozens of buildings we never knew. Well worth the modest cost. Highly recommended. Can't wait to get back to Galena and use this app to the fullest."JimThePCGuy
Great Resource!

"Galena tours is a must have app for tourism and home town history. I am a native Galenian and love having easy access to hours worth of listening material which I can reference at my own pace. The narration is easy to understand and allows me to casually learn about and explore my home town."Rachel Oldenburg
Past v. Present
The DeSoto House Hotel

Turner Hall

The Train Depot

Grant's Home Post-Civil War

The Market House

Customs House & Post Office

The Washburne House

The Grant's House Pre-Civil War
A Message From the App Creator,
Hi, my name is Paula Schonhoff, and I am the creator of the Galena Tours App.  As a Galena native and lifelong resident, I formulated a deep appreciation for the town I call home.  I became interested in Galena's rich heritage as a teenager, while working as a tour guide.   After college, I was employed by the Galena School District where I worked for thirty-four years as a 4th grade teacher.  While teaching Social Studies, I always included a unit on Galena History.  My students and I would take field trips to historical sites such as Grant's Home, the Market House, Blacksmith Shop, Dowling House, Old Stockade, and Washburne House.  I was impressed by the children's interest and pride as they discovered the history of their home town.  After I retired, I decided to take the opportunity to further explore the town's heritage.  I wanted to share Galena's unique history with others, and therefore I decided to create a comprehensive app that would be a virtual tour of the town's past.  I was amazed by the amount of information available and quickly became captivated by the culture of centuries past.  The project took over three years to complete.   I spent roughly two years gathering data from files in the Callahan House: Office for Illinois Historic Preservation Agency and from the Galena Library's Historical Collections Room.  This endeavor included access to the Alfred Mueller Historic Photo Collection and past issues of the Galena Gazette.  I photographed all of the historic sites and obtained archival pictures illustrating these locations from years long past.  I then cross-referenced this information with local historians.  The task was epic, as the town's history proved to be vast and awe- inspiring.  The more I learned, the deeper my appreciation grew.  This exploration of the past gave me a new perspective on the present.  And with that said, I proudly present to you the Galena Tours App.  I hope you find it to be meaningful and enlightening.